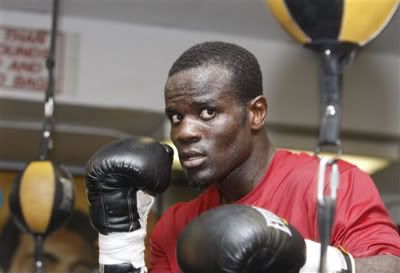 Fight week has arrived, but it seems a lot of the excitement over Pacquiao-Clottey has been subsumed by the interest in Mayweather-Mosley. Part of that - as Rumble writer
Anthony Wilson points out
- is obviously due to the disappointment over Pacquiao-Mayweather and the specter of steroids. Some of it is owed to the fact that there was no 24/7 leading into this fight and it was only made official 8 weeks ago.

The largest reason, though, why there seems to be so little heat is that it is nearly universally believed Pacquiao will win. There was genuine drama going into Pacquaio's most recent fights; his last fight as such a clear favorite was against the overmatched David Diaz, and Manny was predictably brilliant.

Joshua Clottey, however, is no David Diaz. Clottey has some clear advantages over Manny and is capable of winning this fight. An underdog? Yes. A sacrificial lamb? No.

Here are some reasons for Pacquiao fans to be concerned and Clottey fans to have hope going into their March 13 showdown.


Size:
Joshua Clottey is a big man, or at least a big welterweight. He has been at 147 lbs his entire career, and it's a miracle he can still make weight. Against the late Chico Corrales, Joshua Clottey entered the ring at nearly 170 lbs.

Manny Pacquiao, as shown in the preview show, struggles to retain the size to fight as a welterweight. He will likely enter the ring at no more than 150 lbs, a full ten or fifteen less than Clottey. While Pacquiao has faced naturally bigger men before in De La Hoya and Miguel Cotto, Clottey will be the largest and fittest opponent of his career.


Right Hand:
Joshua Clottey has a deceptive and quick straight right hand. It is not as flashy as Pacquiao's weapons, but it lands well and can be used at range. Manny's most recent difficult fights - Erik Morales and Juan Manuel Marquez - came against fighters with strong right hands. Ricky Hatton, Oscar De La Hoya, and Cotto were predominantly left handed punchers, will Pacquiao be able to adapt?


Durability:
Joshua Clottey has walked through some of the biggest welterweight punchers of his generation with barely a backward step. Clottey has only suffered one knockdown in his career, an off-balance shot against Miguel Cotto, but has otherwise never been noticeably impacted by any punch.

Against Miguel Cotto, Manny Pacquiao had some difficulties the first few rounds before taking control after a big uppercut knockdown in the third. That was the punch that changed the fight. Can Manny hurt Clottey with a single shot? It's possible, but he hasn't shown vulnerability like Cotto or Hatton.


Dirty:
I mean this is the most flattering possible way, but Joshua Clottey is a little bit dirty. He was DQ'd against Carlos Baldomir for head butting and has used the tactic in several other fights. Clottey has also been known to punch low to gain an advantage.

Manny has been known to get a little wild after being cut, and is a very clean fighter. Is it possible he could be thrown off his game by a bigger man with nothing to lose and a loose relationship with the rules?


Expectations:
Manny has now established himself firmly as a historically great fighter on a historically great run. While a lot of people will argue that it is impossible for Clottey to win a decision because Pacquiao is the attraction and such a financial power, what if the opposite is true?

Over the last couple of years Manny Pacquiao has won virtually every round by huge margins. Other than the first rounds against Cotto, Manny has barely even been hit. Expectations are so high for Manny that if the rounds are even competitive might the judges give Clottey the benefit of the doubt?